Douglas Tom Thumbs-Up Award
The MACZAC Douglas Tom Thumbs-Up Award was established to recognize Hawaii organizations that further the goals of MACZAC, advance the Coastal Zone Management (CZM) Program and its Ocean Resources Management Plan (ORMP), and actively engage the community.
The award is named in honor of Douglas Tom, Hawaii's long-serving, recently retired CZM Program manager whose tireless work as a steward of Hawaii's natural and cultural resources serves as a model for MACZAC's Thumbs-Up recognition effort.  Recipients of this award are selected and recognized annually by MACZAC.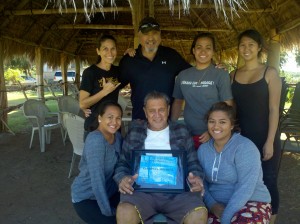 Former MACZAC member Mike Sabas of Molokai presents the
2013 Douglas Tom Thumbs-Up Award to
 Co-Recipient Ka Honua Momona (KHM)
KHM is a 501(c) (3) nonprofit organization, based on the island of Molokai.  KHM's mission is to be a model of sustainability – mauka to makai (from the mountains to the sea).  They seek to foster connections between all aspects of the island ecosystem, including the people and culture, and firmly believe that Molokai can again return to abundance and become a self-sufficient model for all nations.
Their primary long-term goals are to:
1) Develop indigenous education systems by revitalizing natural and cultural resources;
2) Perpetuate traditional knowledge and stewardship while evolving with modern technology.
MACZAC member Phil Fernandez of West Hawaii presents the
2013 Douglas Tom Thumbs-Up Award to
 Co-Recipient E Mau Na Ala Hele
E Mau Na Ala Hele is a community-based 501(c) (3) non-profit organization, established in 1979, devoted to preserving and perpetuating the historic trails of Hawaii and the protection of historic and natural areas adjacent to the trails.
E Mau Na Ala Hele partners with both State and Federal agencies in trail advocacy, preservation, and stewardship, providing volunteers and seeking funding for trail projects.
 Volunteers accepting the award are Barbara Schaefer, Alice Jenkins, Alison Martyn, Keith Wallis, Clare Wilson, Toni Thomson, Phil Fernandez (MACZAC member), Frank Dickinson, Martha Tumbleson, Christine Ahia, Sonja Walawender.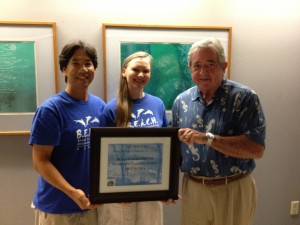 MACZAC Vice-Chair Kimbal Thompson presents the
 2012 Douglas Tom Thumbs-Up Award to
Beach Environmental Awareness Campaign Hawaii (B.E.A.C.H.)
B.E.A.C.H. is an all volunteer, non-profit organization that brings awareness and solutions to the problem of marine debris on Hawaii's beaches through environmental education, marine debris removal and research, and plastic reduction and litter prevention campaigns.
Volunteers accepting the award are Suzanne Frazer and Dean Otsuki.