Douglas Tom Thumbs-Up Award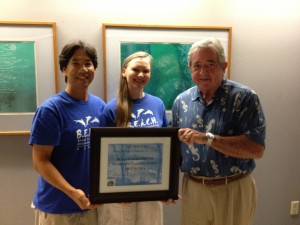 Suzanne Frazer and Dean Otsuki, volunteers from Beach Environmental Awareness Campaign Hawaii (B.E.A.C.H.), accepts a 2012 Douglas Tom Thumbs-Up Certificate of Recognition Award from Kimbal Thompson, MACZAC Vice-Chair.
The MACZAC Douglas Tom "Thumbs-Up" Award was established to recognize Hawaii organizations that further the goals of MACZAC, advance the Coastal Zone Management (CZM) Program and its Ocean Resources Management Plan (ORMP), and actively engage the community.
The award is named in honor of Douglas Tom, Hawaii's long-serving, recently retired CZM Program manager whose tireless work as a steward of Hawaii's natural and cultural resources serves as a model for MACZAC's Thumbs-Up recognition effort.  Recipients of this award are selected and recognized annually by MACZAC.