State Transit-Oriented Development (TOD)
With the development of Oahu's elevated rail transit project, the State has an opportunity to greatly enhance Oahu's urban environment through transit-oriented development (TOD).  In Governor Ige's State of the State address in early 2015, he supported the State's transit-oriented development (TOD) efforts to sensibly direct growth, protect open space and agriculture, stimulate business, reinvigorate older neighborhoods, and build affordable homes. TOD along the rail corridor will allow for the efficient use of Hawaii's resources while protecting the island's unique assets for future generations.
In 2012, the Office of Planning with the assistance of Smart Growth America prepared a report entitled Leveraging State Agency Involvement in Transit-Oriented Development to Strengthen Hawaii's Economy.  This report recommends ways that Hawaii State agencies can leverage TOD to maximize benefits to the State of Hawaii and, by extension, the people of Hawaii.  The recommendations were developed through a series of meetings with representatives from over 40 organizations, including government, private sector, and nonprofit organizations.  The group discussed the meaning and importance of TOD in the context of Hawaii, the role of State agencies in TOD, and strategies to take advantage of new TOD opportunities.
Hawaii has an excellent opportunity to advance the implementation of TOD by looking for ways to proactively integrate land use planning and development through investment in TOD.  This practice, known as transit-oriented development, has received considerable attention on Oahu over the past several years as the City and County of Honolulu has planned for a rail-based transit line connecting major destinations, such as Ala Moana Center, downtown Honolulu, and the airport. TOD also applies to counties with a fraction of Oahu's population, because TOD includes a broader set of conditions that facilitate health, quality of life, and transportation options for Hawaii's residents and visitors.
The following table summarizes the linkages between TOD Elements and Smart Growth Principles: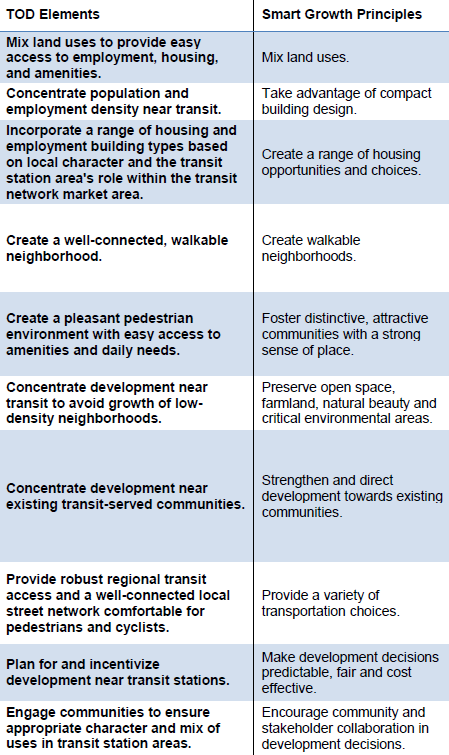 Current Activities
The Office of Planning is supporting a State TOD Task Force convened by a group of State Senators and House Representatives led by Senator Suzanne Chun Oakland.  This effort aims to promote affordable housing, provide supportive services around the rail stations, and create walkable communities and employment centers.  Additional information will be provided here as the process moves forward and State agency plans materialize.
 TOD Maps
TOD Tools and Resources
About Smart Growth (last visited June 10, 2015)
City and County of Honolulu Transit-Oriented Development (last visited June 10, 2015)
Hawaii Community Development Authority (HCDA) Transit Oriented Development Overlay Plan (last visited June 10, 2015)
Honolulu Authority for Rapid Transit (HART) (last visited June 10, 2015)
Infrastructure Financing Options for Transit-Oriented Development, Envtl. Prot. Agency, Jan. 2013
Jesse K. Souki, Hot Topics: Transit Oriented Development, Office of Planning, April 17, 2013
Transit-Oriented Development, Fed. Transit Admin. (last visited April 24, 2013)
Archives
690 Pohukaina Mixed Use Transit Oriented Development, Haw. Community Devel. Corp. (last visited April 13, 2013)
Jesse K. Souki, Smart Growth ideas will help guide transit-oriented development, Honolulu Star-Advertiser, Jan. 28, 2013
Tom Madrecki, Leveraging transit-oriented development for economic growth, better living in Hawaii, Smart Growth America, Dec. 28, 2012