Douglas Tom Thumbs-Up Award
The MACZAC Douglas Tom Thumbs-Up Award was established to recognize Hawaii organizations that further the goals of MACZAC, advance the Coastal Zone Management (CZM) Program and its Ocean Resources Management Plan (ORMP), and actively engage the community.
The award is named in honor of Douglas Tom, Hawaii's long-serving, CZM Program manager whose tireless work as a steward of Hawaii's natural and cultural resources serves as a model for MACZAC's Thumbs-Up recognition effort.  Recipients of this award are selected and recognized annually by MACZAC.
2015 Recipient West Maui Ridge to Reef Initiative (R2R)
The West Maui Ridge to Reef (R2R) Initiative is an all-encompassing approach across multiple agencies and organizations to address adverse impacts to coral reefs in West Maui. The State recognized that an integrated and comprehensive approach to reduce land-based sources of pollution is one of the most important steps to help restore coral reef ecosystems. The R2R Initiative builds on already established efforts underway and leverages resources across a number of agencies and community groups to implement actions to reduce one of the key sources of reef decline – land-based sources of pollution.
Priority Status
The Hawaii Coral Reef Strategy identified the coral reef ecosystem along the West Maui region as a priority management area. The US Coral Reef Task Force designated West Maui Watersheds as a priority partnership in the Pacific in 2011, beginning with Wahikuli and Honokōwai, and now including Kahana, Honokahua and Honolua. The full R2R project area includes 24,000 acres from Kā`anapali northward to Honolua and from the summit of Pu`u Kukui to the outer reef.
Ongoing and Future Work
The R2R Initiative seeks to build on existing work in West Maui.  The Watershed Management Plan for Wahikuli and Honokōwai funded by NOAA was completed in Dec 2012, and is now in the implementation phase.  Planning for Kahana, Honokahua and Honolua Watersheds is underway and will be completed by early 2016.
Working Group
The working group is comprised of ten members that represent key interests in West Maui.  It is chaired by Department of Land and Natural Resources, Division of Aquatic Resources (DLNR-DAR) and facilitated by the West Maui Watershed Coordinator.  Members represent interests in agriculture, land development, resort operation, soil conservation, traditional Native Hawaiian knowledge, non-profit marine conservation, recreational ocean users, Maui County and fishing.  The working group supports the R2R Initiative by serving as a local body providing community input to the Funding and Agency Support Team (see below).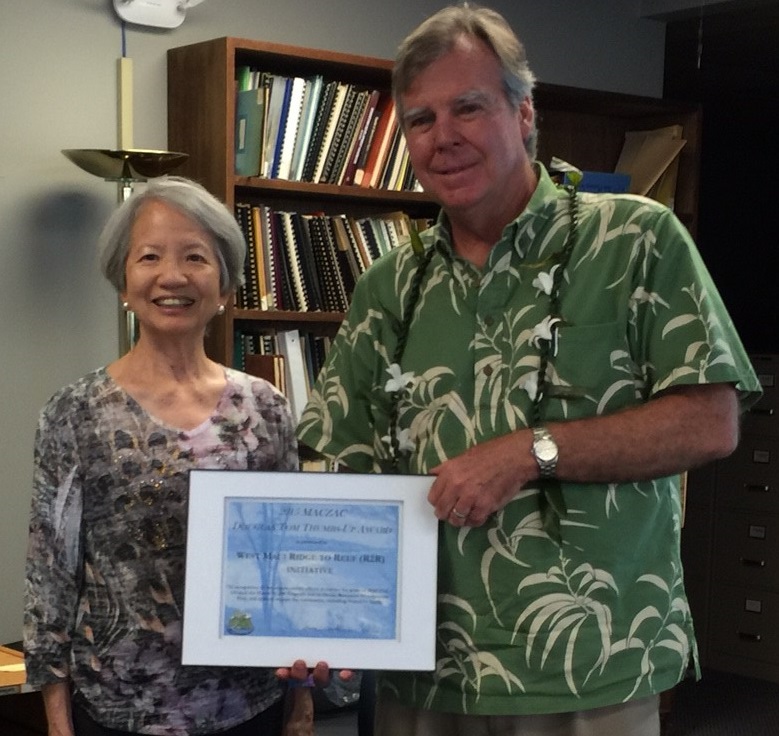 MACZAC Chair, Sue Sakai, presents the 2015 Douglas Tom Thumbs-Up Award to Bruce Anderson, DAR Administrator. DAR is a WMR2R partner agency.
2014 Recipient University of Hawaii Marine Option Program (MOP)
University of Hawaii Marine Option Program (MOP) is a University of Hawaii system-wide Certificate program, offered on all UH campuses, providing educational opportunities for University of Hawaii students from any field of study who are interested in the ocean.
Students in the MOP Certificate program have the opportunity to take marine-related coursework, and to conduct an independent research project or participate in an internship in a marine-related field. The MOP Certificate program provides students with experiential education, research opportunities, networking, job opportunities, field trips, and the opportunity to pursue their passion for marine studies.
The MOP Certificate is awarded to students who have completed a specialized marine-focused course of study, including required coursework and an independent Skill Project. The MOP Certificate is similar to a minor, and is awarded to students who successfully complete 12-16 credit hours of marine-related courses, IS 100 (MOP Seminar) as well as a MOP Skill Project. The MOP Certificate is an official University of Hawaii Certificate that is registered on the student's transcript.

MACZAC members present the 2014 Thumbs-Up Award to Dr. Cynthia Hunter, MOP Coordinator (fourth from left), accepting the award at the June 1, 2015 MACZAC Meeting for each of the nine UH campuses where MOP is available. With Dr. Hunter in the photo are (from left to right): MACZAC members Phil Fernandez, Craig Severance, Donna Brown, James Coon, Dawn Hegger, Rich Brunner, Robin Kaye, and Shaylyn Kimura, and MACZAC Chair Sue Sakai.
2013 Co-Recipient Ka Honua Momona (KHM)
Ka Honua Momona (KHM) is a 501(c) (3) nonprofit organization, based on the island of Molokai. KHM's mission is to be a model of sustainability – mauka to makai (from the mountains to the sea). They seek to foster connections between all aspects of the island ecosystem, including the people and culture, and firmly believe that Molokai can again return to abundance and become a self-sufficient model for all nations. Their primary long-term goals are to:
Develop indigenous education systems by revitalizing natural and cultural resources.
Perpetuate traditional knowledge and stewardship while evolving with modern technology.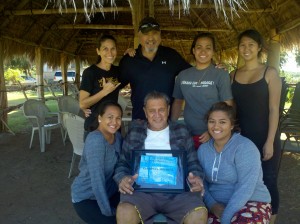 Former MACZAC member Mike Sabas of Molokai presents the 2013 Douglas Tom Thumbs-Up Award to members of Ka Honua Momona.
2013 Co-Recipient E Mau Na Ala Hele
E Mau Na Ala Hele is a community-based 501(c) (3) non-profit organization, established in 1979, devoted to preserving and perpetuating the historic trails of Hawaii and the protection of historic and natural areas adjacent to the trails.
E Mau Na Ala Hele partners with both State and Federal agencies in trail advocacy, preservation, and stewardship, providing volunteers and seeking funding for trail projects.
MACZAC member Phil Fernandez of West Hawaii presents the 2013 Douglas Tom Thumbs-Up Award to volunteers of E Mau Na Ala Hele Barbara Schaefer, Alice Jenkins, Alison Martyn, Keith Wallis, Clare Wilson, Toni Thomson, Frank Dickinson, Martha Tumbleson, Christine Ahia, and Sonja Walawender.
2012 Recipient Beach Environmental Awareness Campaign Hawaii (B.E.A.C.H.)
Beach Environmental Awareness Campaign Hawaii (B.E.A.C.H.) is an all volunteer, non-profit organization that brings awareness and solutions to the problem of marine debris on Hawaii's beaches through environmental education, marine debris removal and research, and plastic reduction and litter prevention campaigns.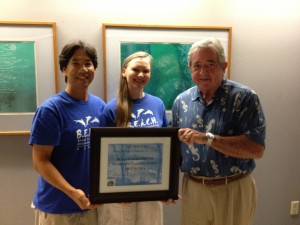 MACZAC Vice-Chair Kimbal Thompson presents the 2012 Douglas Tom Thumbs-Up Award to B.E.A.C.H. volunteers Suzanne Frazer and Dean Otsuki.