State Transit-Oriented Development Program
What's New!
Request for Proposals: East Kapolei Infrastructure Implementation Master Plan
OPSD is seeking consulting services to prepare an Infrastructure Implementation Master Plan to support development around the Skyline Rail East Kapolei area stations. The Project will identify public and private backbone infrastructure improvements required to support transit-oriented development (TOD), including affordable housing; prioritize public infrastructure needed for the full build-out of the Project Area; and make recommendations for financing and implementation of TOD-related infrastructure delivery.
Download the RFP at: https://hands.ehawaii.gov/hands/opportunities/opportunity-details/23297
Deadline to submit proposals is 4 p.m. HST on November 17, 2023.
---
2023 TOD CIP Planning Funds Awarded
Three TOD project proposals were announced as this year's selection of TOD CIP funds at the September 2023 TOD Council meeting.  The purpose of the funds is to encourage the development of affordable housing, mixed-use, walkable, and compact communities near transit on Oahu and on the Neighbor Islands.
Hawaiʻi Public Housing Authority


Hale Laulima, Pearl City, Oʻahu; $250,000

Hawaiʻi Public Housing Authority


Hale Nana Kai O Kea Redevelopment; Kapaʻa, Kauaʻi; $350,000

County of Hawaiʻi Office of Housing and Community Development


Kukuiola Village 9 Permanent Supportive Housing; Kailua-Kona, Hawaiʻi; $400,000
OPSD is very appreciative of the Governor and State Legislature's efforts to support TOD CIP Planning Funds to advance TOD projects statewide.
---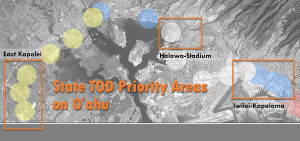 Rail Opening Lets State Showcase State and City TOD Projects
To help the public explore along the new Skyline service, the TOD Program prepared a map handout that shows State and City TOD projects on public lands along the Skyline.  The flyer highlights TOD projects and plans that are underway (or will be soon) with funding from the State Legislature.  The map handout can be accessed here.
To enjoy the Skyline, please obtain a Holo Card.  More details at Rail Operations (honolulu.gov).
---
Hawaiʻi Interagency Council for Transit-Oriented Development (TOD Council)
On June 29, 2016, Governor David Ige signed into law Act 130, SLH 2016 (SB 3077) which designates the Office of Planning and Sustainable Development (OPSD) as the lead State agency to coordinate and advance smart growth and TOD planning in the State.  Act 130 also established the Hawaiʻi Interagency Council for Transit-Oriented Development (TOD Council).
The purpose of the TOD Council is to coordinate and facilitate State agency TOD planning, and to facilitate consultation and collaboration between the State and the counties on smart growth and TOD initiatives.  Links to Act 130, SLH 2016 and a summary of its provisions are available below.
With representation from State and county governments and the community, the TOD Council serves as the State's forum for TOD planning and policy development.  The Council is co-chaired by the directors of the Office of Planning and Sustainable Development and the Hawaiʻi Housing and Finance Development Corporation (HHFDC).  The TOD Council's primary responsibilities are to:
Develop and implement a State strategic plan for TOD, including mixed-use and affordable and rental housing projects;
Facilitate funding for TOD programs and projects;
Monitor TOD implementation and recommend needed policy and statutory changes; and
Review Capital Improvement Project requests for TOD on State lands.
For information regarding TOD Council meetings, please click here or on the link in the sidebar to the right.
Click here to view Act 130, SLH 2016
Click here to view a summary of Act 130, SLH 2016
---
Other TOD-Related Legislation Enacted in 2016
Act 131 (HB 2293)
Allows HHFDC to develop mixed-use developments in partnership with State and county departments and agencies.
Click here to view Act 131, SLH 2016
Act 132 (HB 2305)
Authorizes the creation of Regional State Infrastructure Improvement Subaccounts within the Dwelling Unit Revolving Fund and the use of the Dwelling Unit Revolving Fund to provide loans and grants to finance regional state infrastructure improvements in areas of planned growth.  Also allows repayment from assessments or fees which capture property value increases (IDs or TIF).
Click here to view Act 132, SLH 2016
Act 127 (SB 2561)
Establishes a goal of developing or vesting the development of at least 22,500 affordable rental housing units statewide ready for occupancy between January 1, 2017 and December 31, 2026. Also establishes a temporary special action team on rental housing to make recommendations to the Governor, Legislature, and other parties to achieve the goal.
Click here to view Act 127, SLH 2016
---
Background
The State of Hawaiʻi is the largest landowner along Honolulu's 20-mile rail transit corridor, owning about 2,000 acres of land within a half-mile radius of the 21 stations.  As construction of the Honolulu rail transit system progresses, the State has a unique opportunity to enhance Oahu's urban environment by applying smart growth and transit-oriented development (TOD) principles to revitalize neighborhoods, increase affordable housing, and improve accessibility to public facilities and services.  On the Neighbor Islands, similar smart growth and TOD principles can be applied effectively in the provision of State facilities and services to encourage quality growth and vibrant mixed-use neighborhoods in urban or rural centers.
In 2012, OPSD and Smart Growth America convened a Project Stakeholders Group to develop a TOD implementation strategy for State agencies, entitled "Leveraging State Agency Involvement in Transit-Oriented Development to Strengthen Hawaii's Economy."  This effort included three workshops and involved over 40 government and private and non-profit organizations.
In 2015, the State Transit-Oriented Development Task Force was formed, chaired by Senator Suzanne Chun Oakland.  Monthly meetings were held to coordinate State agency projects and plans in the TOD areas surrounding the rail transit stations in Honolulu.  A status report to the Governor and Legislature was prepared in December 2015.
---
C
ontact
If you have any questions about the State's TOD efforts, please contact staff at OPSD – Land Use Division by email at [email protected] or by phone at (808) 587-2805.