NERR Site Selection Process
The Office of Planning is coordinating the selection of a site for a research reserve in Hawaii. There are currently 28 research reserves in the National Estuarine Research Reserve System (NERRS). Information on the national system can be found here.
The site selection process began in 2013, and more information on this process can be found here.  After receiving applications submitted by interested communities and the University of Hawaii, Heeia was identified as the preferred site.  In May 2014 former Governor Neil Abercrombie submitted a site nomination request to the National Oceanic and Atmospheric Administration (NOAA). This nomination was approved by NOAA on October 27, 2014.
The next phase of the process involves the drafting of a NEPA document and the development of a Management Plan for the site. This Management Plan is a guidance document, which will be developed with input from the public through comments and in-depth discussions in focus groups. Please see below for more details.
Scoping Process for the NEPA Process and Development of the Management Plan
To begin the next phase of the site designation process, scoping meetings were held in Kaneohe and Honolulu on December 17 and 19, 2014.
The presentation given at the scoping meetings can be found here:  Scoping Meeting Presentation  along with the Written Comment Form and Handout on Participating in the Focus Groups during the development of the Management Plan. Please submit written comments using the comment form, or submit your name if you are interested in participating in a focus group centered on one of three management areas.
Scoping comments gathered at the two public meetings as well as via written comment forms are compiled here: Scoping Comments December 2014.  If you have additional scoping comments, please submit them using the written comment form by January 30, 2015.
See below for scoping meeting details.
Proposed Boundary
A map showing the proposed site boundary is found below.  This proposed boundary, refined by the State to follow tax map key (TMK) parcel boundaries, will be discussed within the focus groups outlined in the Handout on Participating in the Focus Groups, discussed above. Do you think it should include or not include certain areas? Why or why not?  We welcome all comments regarding this proposed boundary.  Please send in your written comments using the Written Comment Form, discussed above.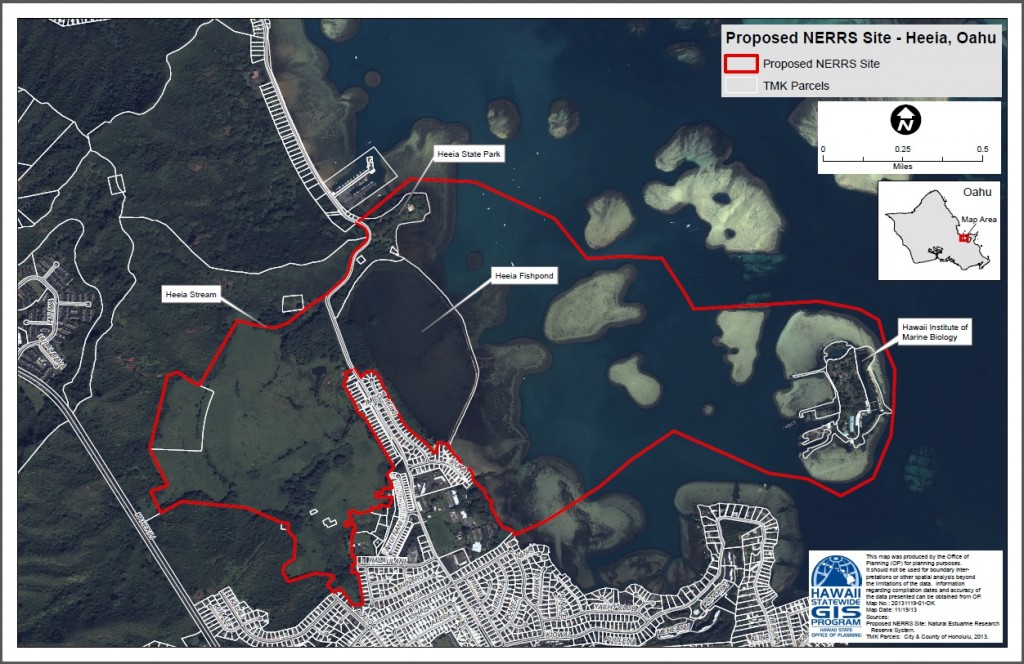 Development of the Nomination Document: Public Meetings  
After public notice, a first public meeting to take comments on the preferred site and its nomination was held in the vicinity of the preferred site on Thursday, January 9, 2014, at Governor Samuel Wilder King Intermediate School's dining hall.  As requested by meeting attendees, unredacted comments from the first meeting and comments received by E-mail are available online for review at http://files.hawaii.gov/dbedt/op/czm/initiative/nerrs/comments_received_as_of_2014-02-9.pdf.
A second followup public meeting was held on February 27, 2014, also at Governor Samuel Wilder King Intermediate School's dining hall at 5:30 pm – 7:00 pm. Both public meetings were advertised in the local paper.  Any comments received by February 9, 2014, were addressed at the February 27 meeting and additional comments were taken. The final list of comments, collected until March 7, 2014, is available online for review at http://files.hawaii.gov/dbedt/op/czm/initiative/nerrs/final_master_list_of_comments_4.10.14. All comments received by March 7, 2014, were collected and addressed in the site nomination document.
Click here for the public meeting AGENDA, PROCESS HANDOUT, MAP HANDOUT, RESPONSES TO COMMENTS, and list of site selection CRITERIA. These were also available at the second public meeting.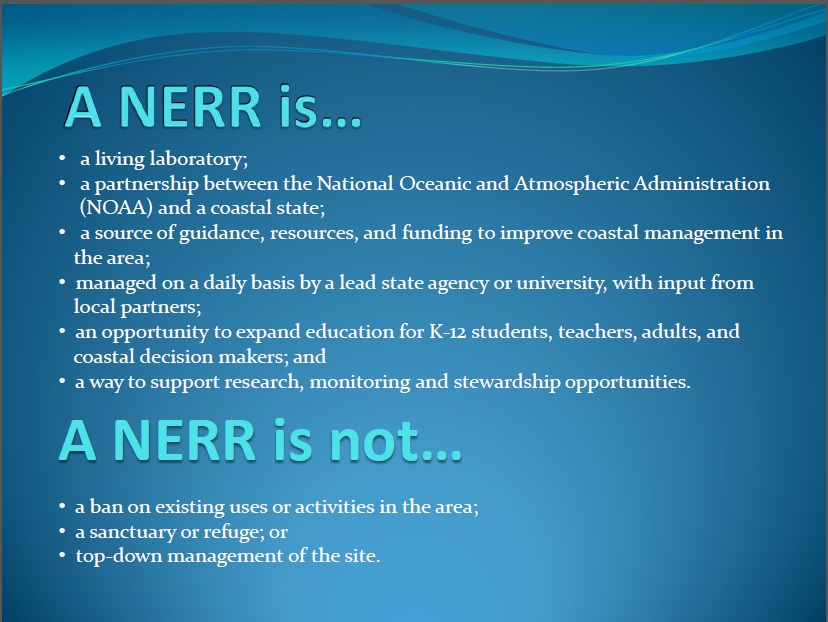 Written Comments
We thank you for your participation at public meetings as well as for taking the time to submit comments to support the development of the nomination request, and for your further comments as the next phase of Management Plan development begins.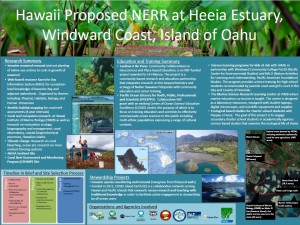 If you have questions regarding the site selection and designation process, or to be added to our mailing list, please contact Rebecka Arbin at rebecka.j.arbin@dbedt.hawaii.gov, or 587-2831.